A Cozy Astoria Apartment Has a Wonderfully Warm and Cheery Color Palette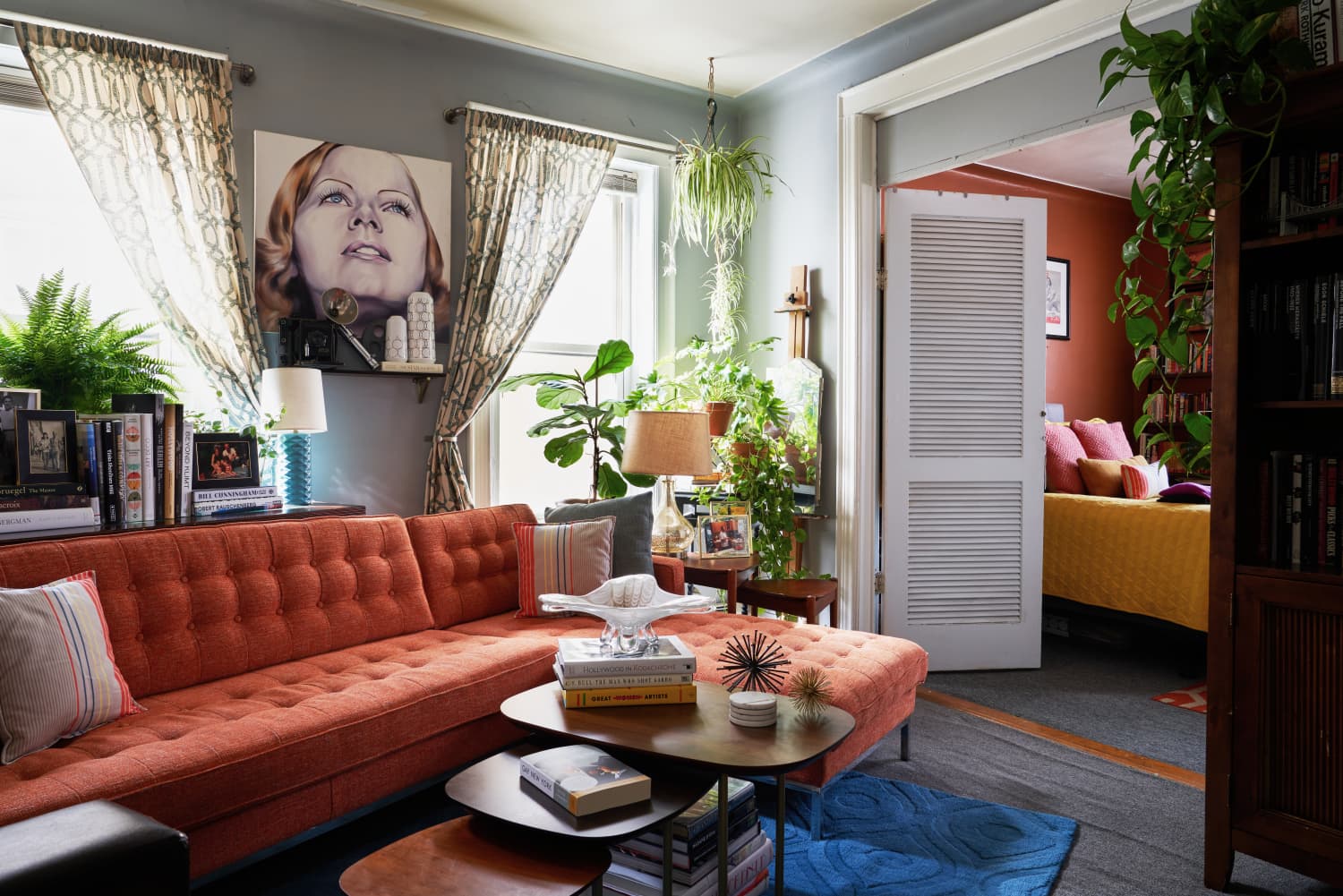 We independently select these products—if you buy from one of our links, we may earn a commission.
Name: Justin Russo and Pierce Atkins
Location: Ditmars neighborhood — Astoria, NYC
Size: 1,200 square feet
Years Lived In: 11 year, renting
New York-based artist and illustrator Justin Russo has lived in this apartment for a long time. Eleven years ago he found it on Craigslist, and after many years of different roommates and "mismatched furnishings," he was finally able to make this two-bedroom home is own. Now sharing it with his partner Pierce, the apartment is full of warm colors, green plants, and lots of references to old movies.
Justin's Warm and Cheery Astoria Apartment | House Tours
"My home feels like an homage to postwar New York, which is my favorite historical and artistic period," says Justin. "I am a cinephile and art geek and each time I open my front door, it feels like I am stepping back into a period of creative frenzy. The apartment is on the second floor of a two-story home (very typical for Astoria) and was built in 1925. Seemingly unlike most of the HGTV generation, I prefer nooks and closed-off spaces. My home is resplendent with these details."
Justin, who you might have seen on "Fire Island," is also the host of an LGBT travel show, "Check Your Luggage," premiering soon on HereTV! and Amazon Prime. You can find more of Justin's art on Etsy.
Apartment Therapy Survey:
My Style: I lovingly call my style "Secretly Gay WWII Veteran Returning to NY in 1946 to Mourn His Lover Lost in Battle." I think of it as Film Noir meets Technicolor.
Inspiration: Essentially that period of time where immediate postwar meets mid-century modern. The sets of such films as "Mildred Pierce" or "The Big Sleep" without a film studio's budget.
Favorite Element: I love how the living room and bedroom are connected via double doors. The bedroom has a large picture window and lets in a lot a light, warming up the entire space. This also enables us to easily create privacy or enlarge the living area when necessary.
I also love how a color scheme has been introduced throughout the entire place as it makes the home cohesive and connective. I've tried to keep the palette colorful and bright but manageable: teal, burnt oranges, golden yellow, and navy.
Biggest Challenge: In an older home and a rental, there are lots of particular issues of age to overcome. The kitchen, hall, and bathroom still need to be brought to life. The cabinets have been painted white (from a dark brown) to lighten the space. The hall has a built-in curio cabinet that was initially closed off. The doors were removed, and the shelves are now a bar.
Proudest DIY: Older homes tend to lack closet space. I turned an alcove in the studio into a functional storage space for my clothes and turned a very narrow "closet" (a closed space over the staircase) into a shoe closet using shelving from Home Depot and the help of my mom (who is an organizational whiz).
Biggest Indulgence: The orange sectional was definitely a splurge but easily the best purchase for the space. My sister helped source the piece and we somehow bought it at a steep discount. I also have an obsessive personality, hence the multiple photos of Lauren Bacall, bevy of art and film books, and an assortment of plants. I sometimes hide new books from my boyfriend.
Best Advice: Not everyone has a fully realized concept of their style but ultimately, if you are drawn to a color or a piece, start there. I drew my color inspiration from a 1942 "Casablanca" film poster and my love for a particular era. If something speaks to you, own it.
What's your best home
secret? My tendency for neatness has
been passed along from my great-grandparents. One can have many items, say a
pile of books, and it feel open as long as the space is organized. Simply put,
finishing chores promptly (i.e. doing dishes after cooking) rather than waiting
keeps a home in order.
Published at Tue, 07 Apr 2020 16:00:00 +0000