Before and After: A $15,000 Two-Tone Kitchen Has a Fresh Take on Gallery Walls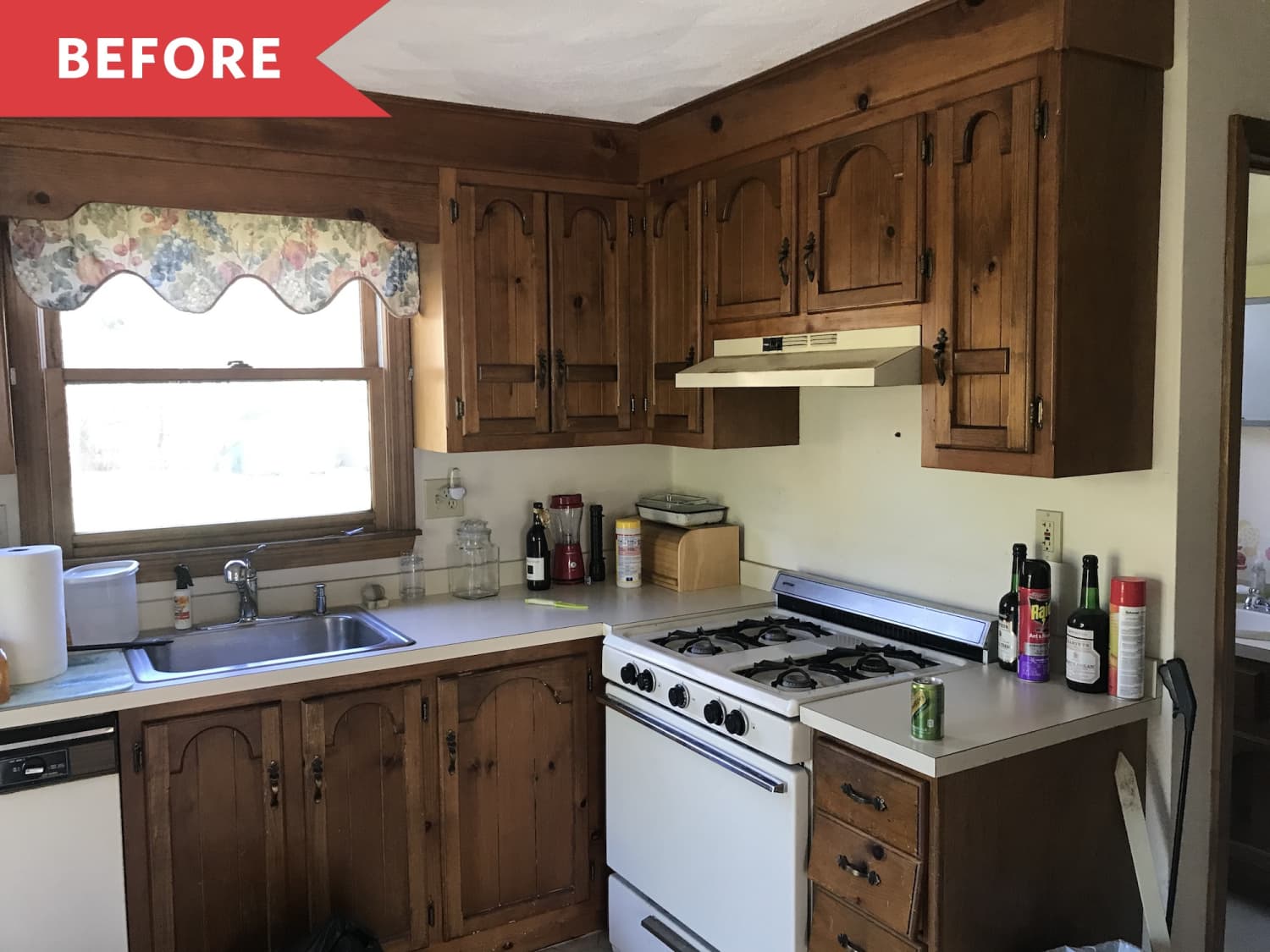 One of the most important things you can do when moving into a new one is take the time to make it feel like you—especially now that everyone is spending a lot more time at home these days. That's something Kayla Grover and her fiancé wanted to prioritize in their first house, a vintage charmer that was showing its age.
That included completely overhauling their outdated and very brown kitchen with a black and white color scheme inspired by images Kayla had been pinning and saving because, she says, she "wanted it to feel bright and welcoming but also modern." Working with Kayla's handy dad, the couple gave the space a totally new look and brought it into the 21st century.
The crew extended the cabinets, painted them white on the top and black on the bottom, and opted for a clean white quartz countertop, square sink, and gold pulls. Up top, they also added oak wood shelving and a backsplash of white hexagonal tiles that together add some warmth and whimsy. And they purchased all new appliances in black stainless steel to match the bottom black cabinets, and replaced the flooring for some extra coziness and texture.
Before, the dining nook almost felt like a throwaway area, but Kayla once again drew inspiration from a photo she found on Pinterest and imagined into reality a photo-filled eye-catcher. She and her dad built an oak table and bench and added hairpin legs to both, courtesy of Amazon. Then she painted the corner black and got to work on a gallery wall of black and white images and framing. "I wanted a modern gallery wall with a statement," Kayla explains.
She also "didn't want anyone to sit on the bench and have their head hit the frames," so by necessity, she hung the frames higher up on the wall than you'd typically see. What she ended up with: an art-filled wall that's fun and fresh.
Overall, Kayla says the reno took about eight months and cost about $15,000, and she is adamant that this wouldn't have been possible without her father. "We did have a plumber come in and an electrician friend, but otherwise my dad managed the entire project and installed it," she says. "Because of all his handy work, we saved a ton of money on this beautiful, modern, monochrome, Scandinavian, bohemian kitchen and eat-in area."
Now, Kayla is thrilled with the space, and finds it "rewarding knowing that I had this vision and it came to life right before me." She says she also especially loves that she, her fiancé, and her dad did the work together: "It makes the space that much more special because all of our hard work, heart, and vision came into this."
Published at Thu, 01 Oct 2020 21:00:07 +0000